Ultra-thin glass
UFF® - Ultra-thin soda-lime glass
Ultra-thin glass (UFF®) is a high-quality, high-flatness, ultra-thin soda-lime glass with a track record of more than 40 years, mainly in the automotive and display industries.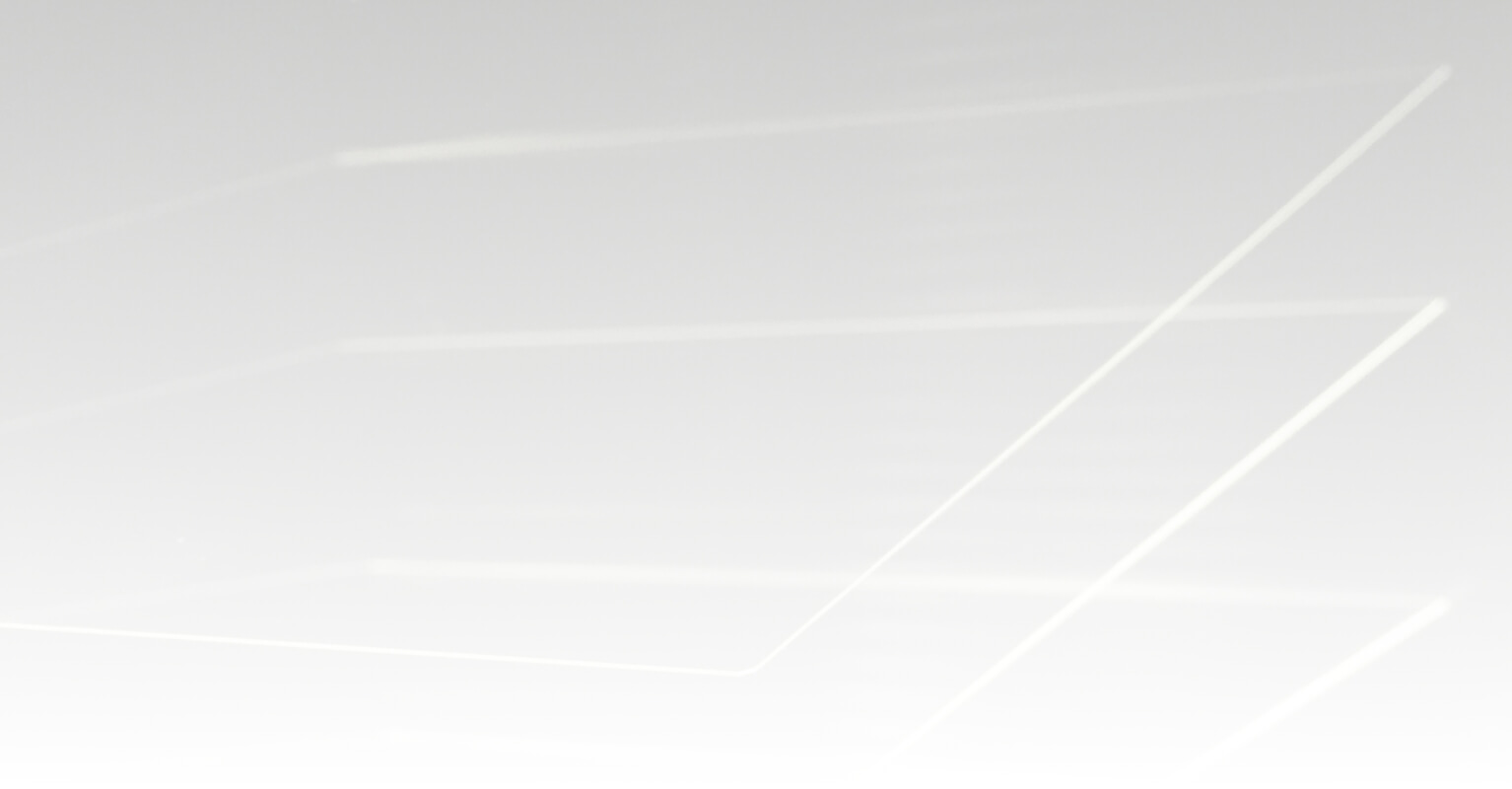 Product summary
In 1978, NSG was the first company in the world to produce and sell low-cost ultra-fine flat glass (UFF®: ULTRA FINE FLAT GLASS) using the Colburn method, marking a major epoch in the early days of the LCD industry. After that, in 1989, we changed the manufacturing method to the float type glass manufacturing method, and by providing higher quality and lower cost glass, we have contributed greatly to the development of the LCD industry.
In addition, in order to meet the diversifying needs of touch panels, cover glass, etc., we have various product lineups such as ultra-thin plates (thickness: 0.28 mm or more) and chemically strengthened glass. We offer thin soda lime glass.
Features and Benefits
UFF® is an ultra-thin glass with the following characteristics and advantages.
■ Abundant plate thickness variations
0.28mm, 0.33mm, 0.4mm,0.5mm,0.55mm,0.7mm,1.1mm,1.3mm,1.8mm, etc.
■ High quality (surface quality - low defects) and high flatness (surface smoothness)
■ Low cost
■ Glass processing
- Cut
- Edge grinding
- Polishing
- Chemical strengthening
Application
UFF® is used in applications such as:
- Touch panel display
- Smartphone
- Mobile tablet
- Vehicle touch screen (CID, cluster, etc.)
- Computer cover display
- TN/STN LCD display
- Cover glass for flat panel displays
- Special electronic applications
Application example
Glass substrates for LCDs (vehicles, home appliances, etc.)
High-quality and high-flatness UFF® is used in TN/STN liquid crystal glass.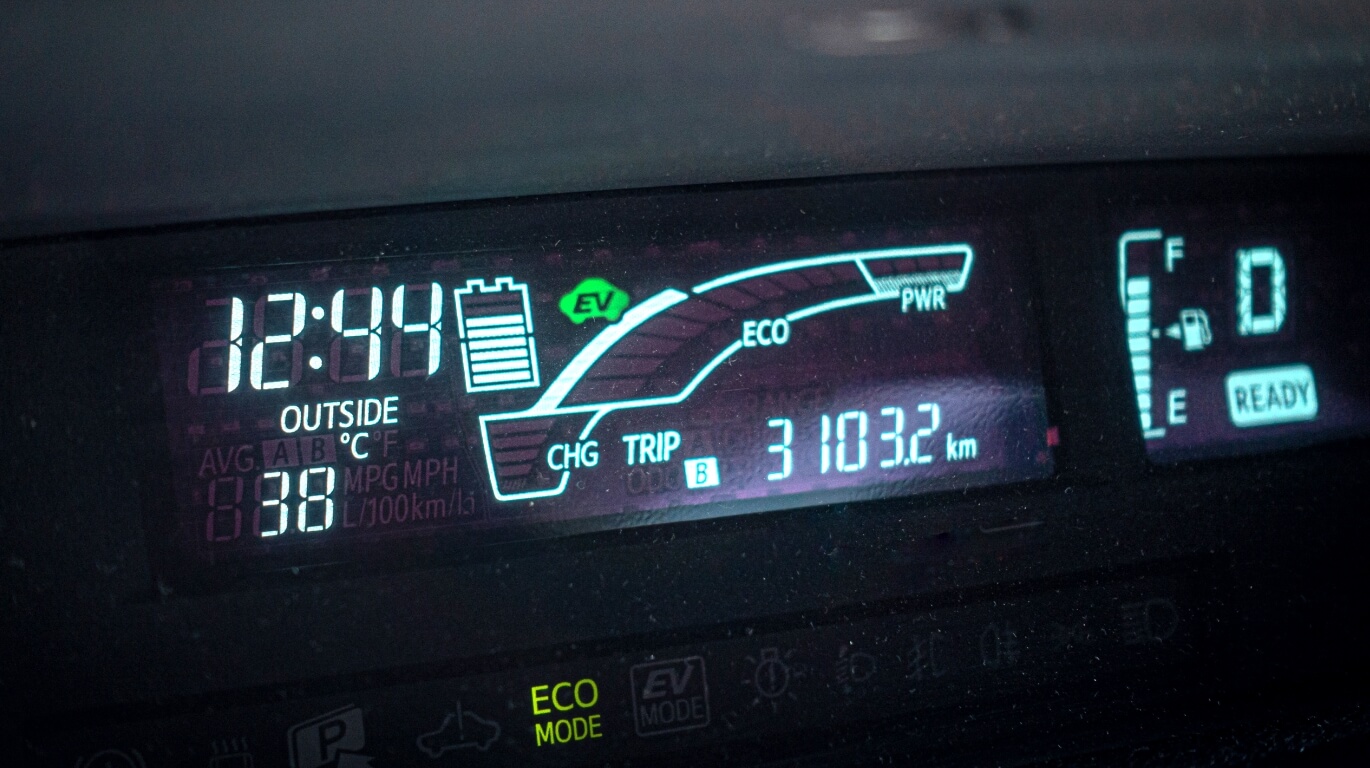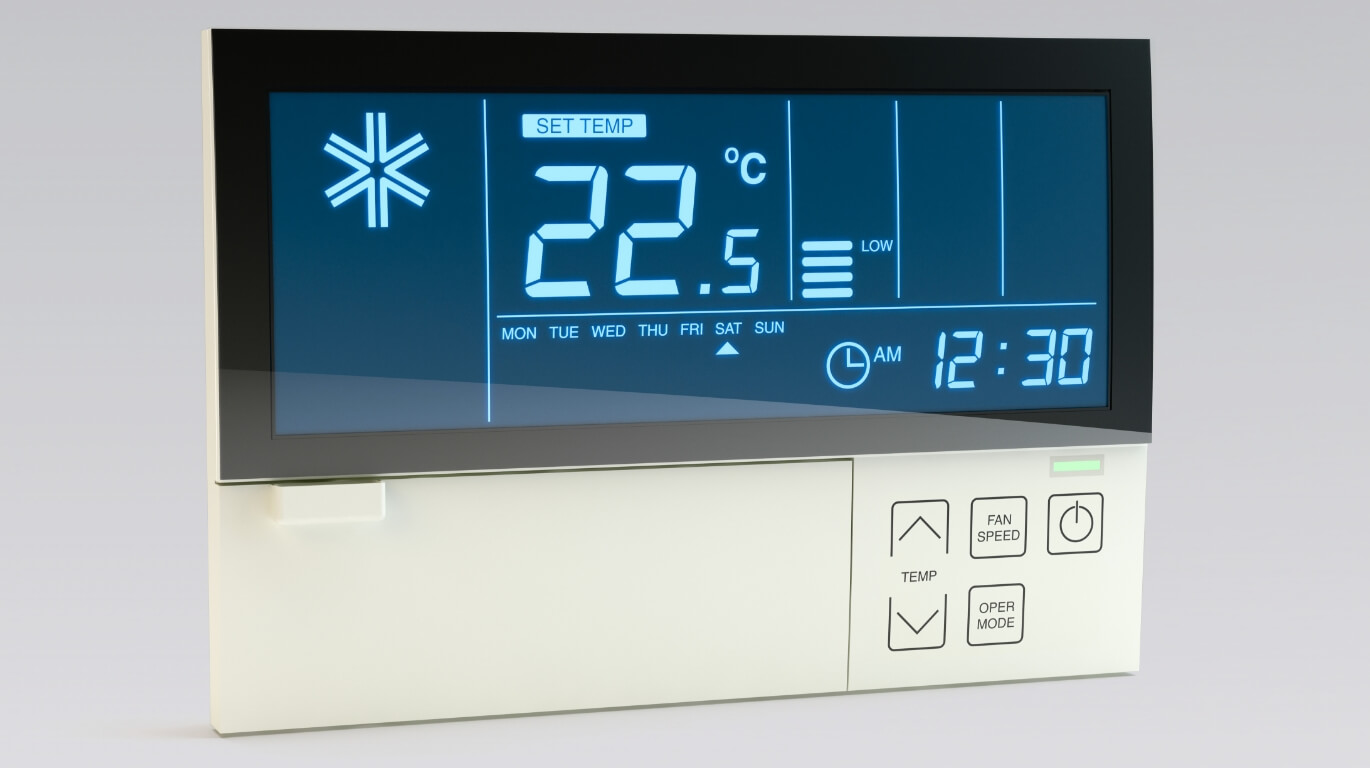 Glass substrates for automotive mirrors
UFF®, which has high flatness (surface smoothness) and few scratches and foreign matter, is used for the glass substrate of rearview mirrors, which provide a sense of distance. Anti-fogging, water-repellent, and low-reflection coatings can be applied to the glass surface, contributing to improved mirror quality.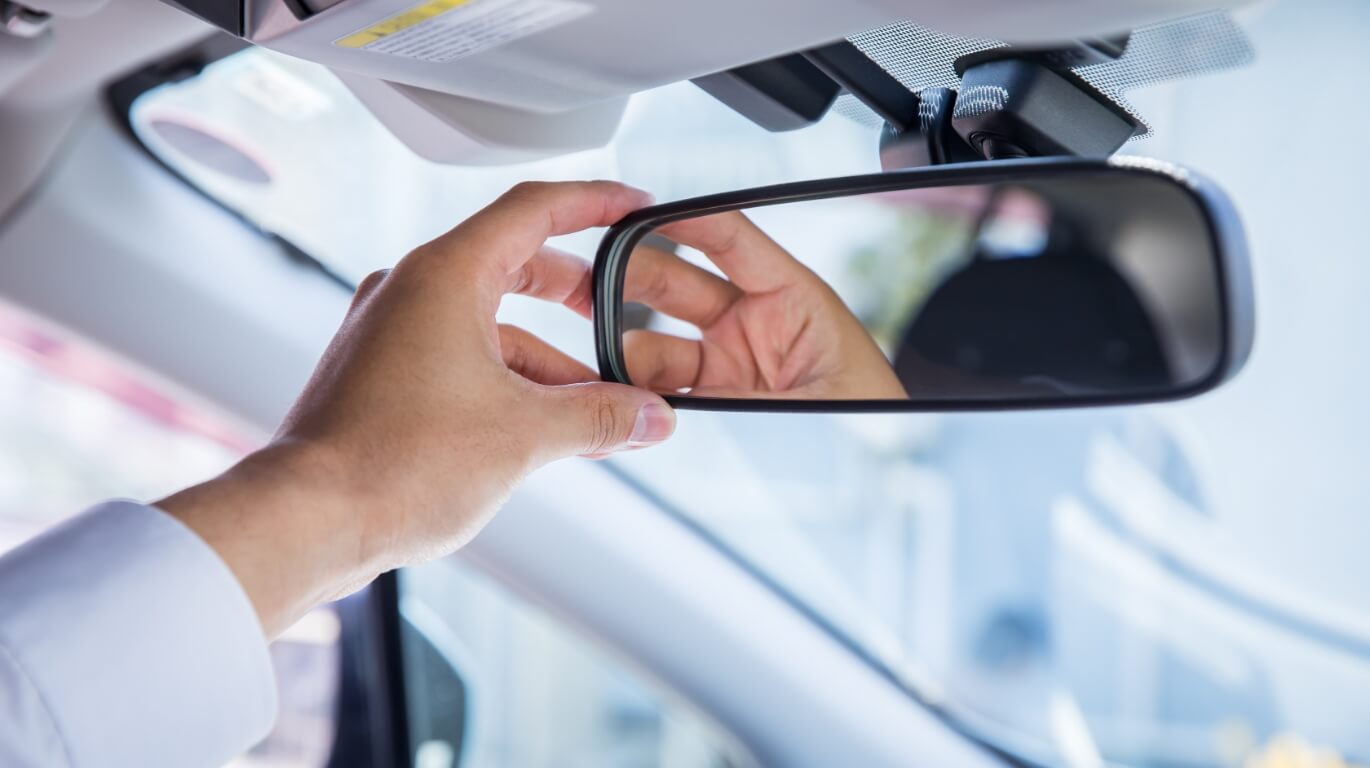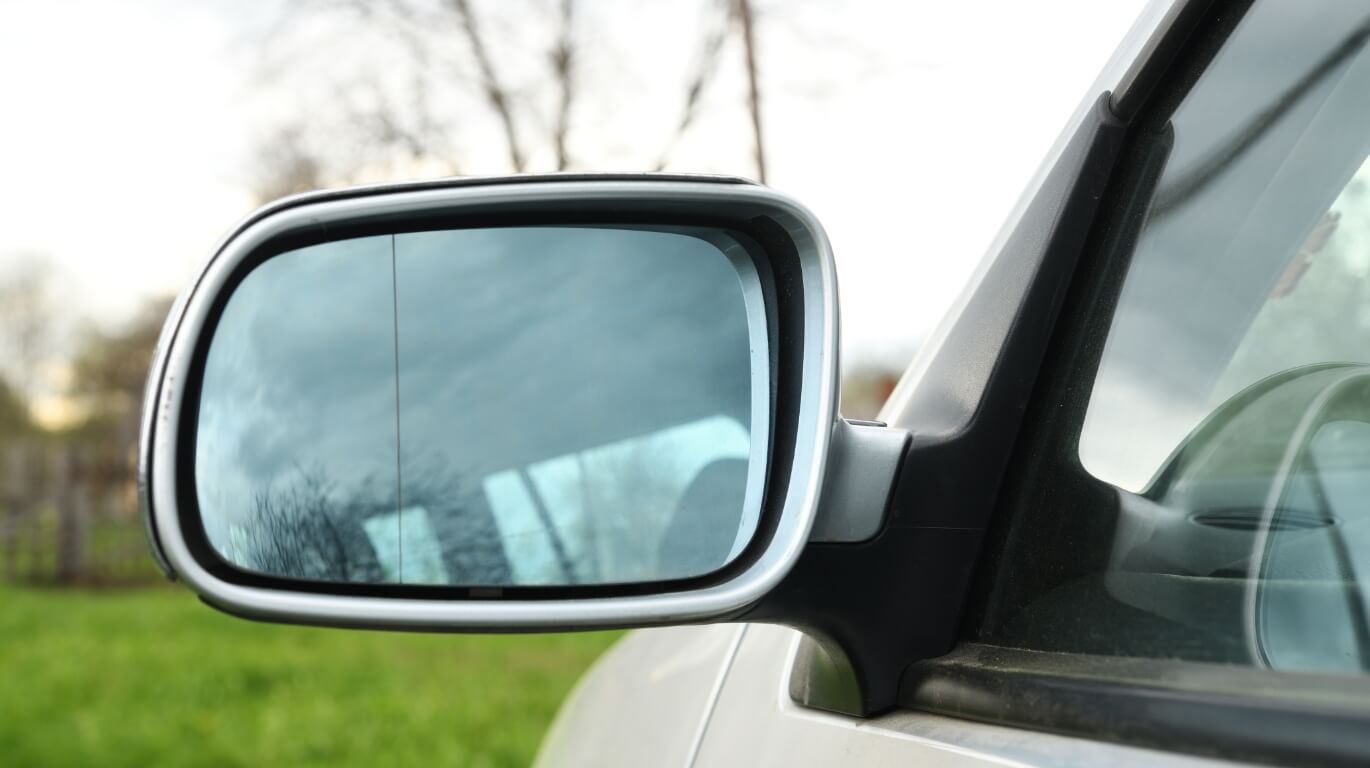 Glass substrate for touch sensor (touch panel, touchpad)
The glass substrate is used not only for the touch panel but also for the touchpad trackpad. UFF®, which has a high degree of flatness, not only provides smooth operability of the touchpad, but also gives it a luxurious appearance not found in other materials. It can be realized, so it is built into the device as part of its design. UFF® gives products a unique aesthetic and a classy, sophisticated look that gives users a sense of satisfaction.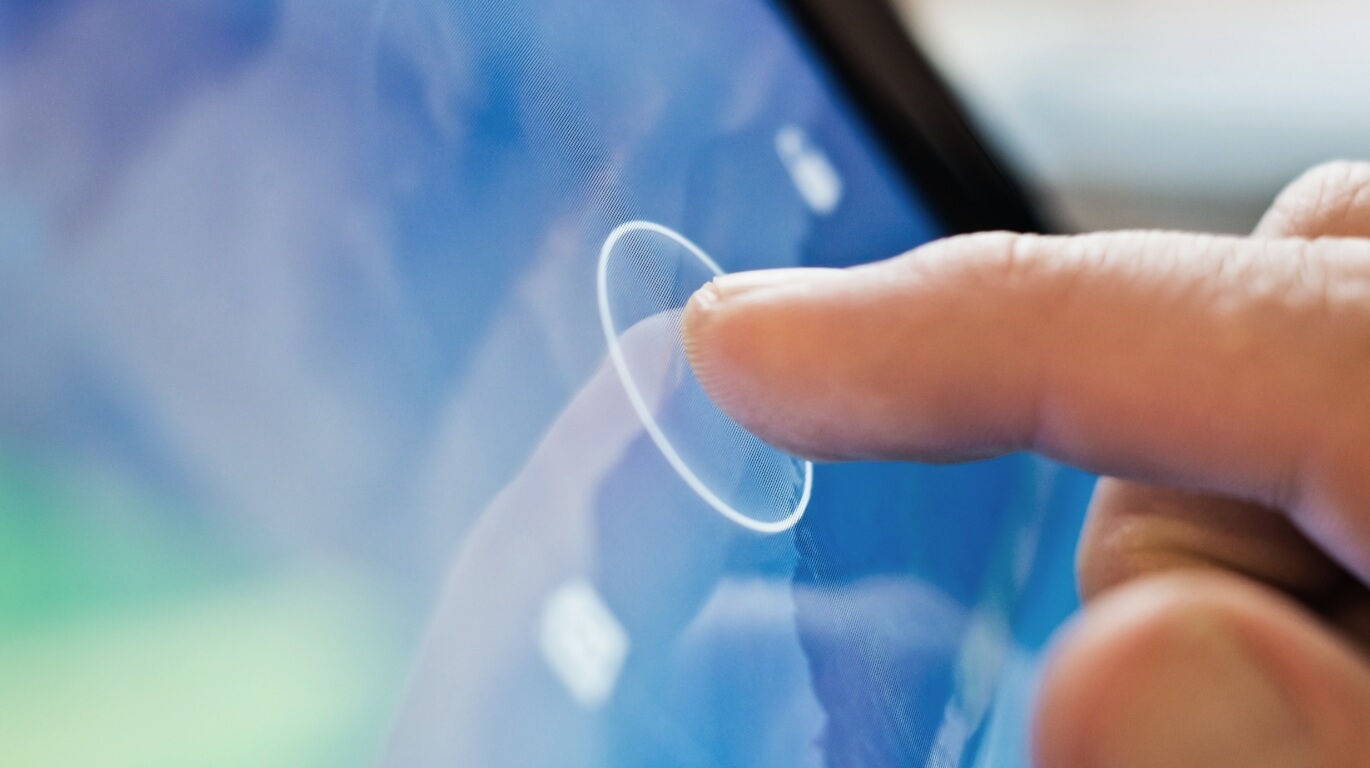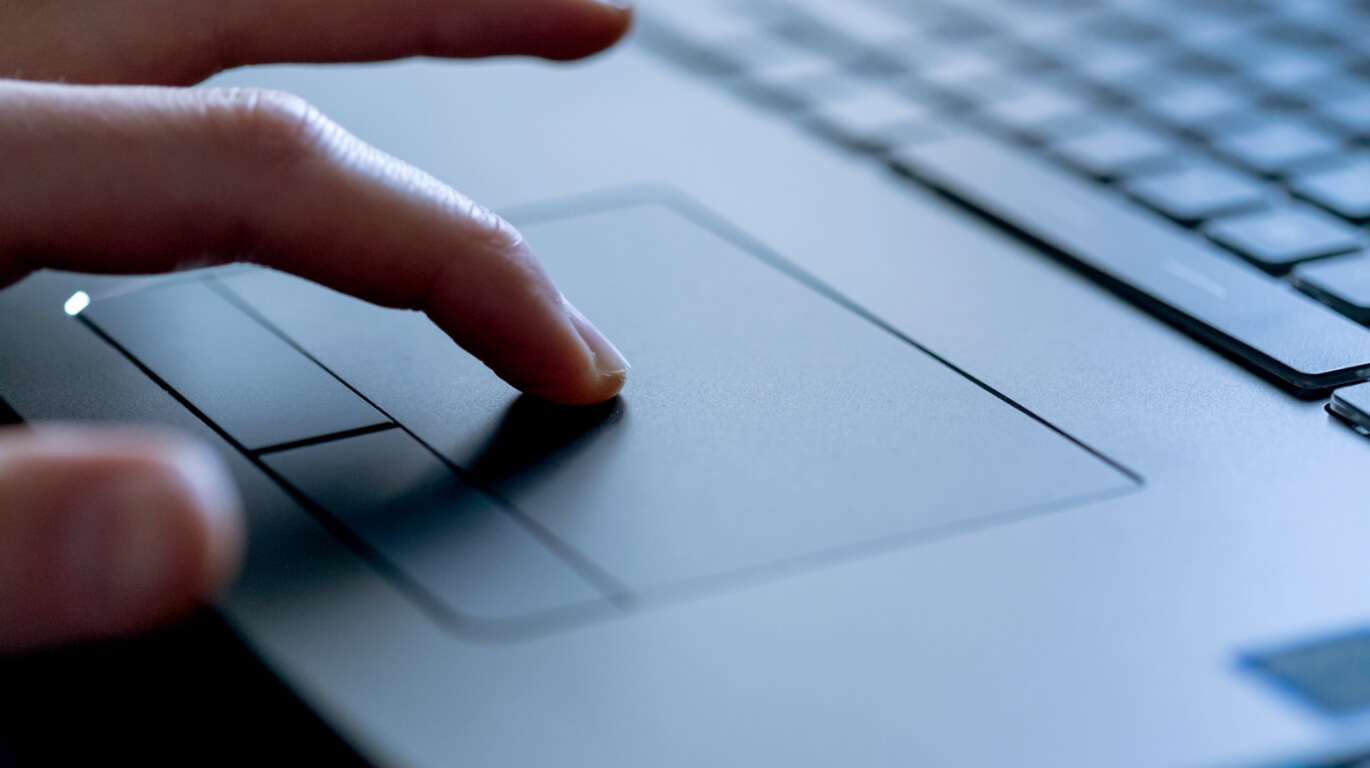 Cover glass (in-vehicle, smartphone)
Cover glass is used to protect various devices such as LCDs and meters. Due to its high flatness and excellent surface smoothness, UFF® can be applied without polishing. UFF® provides high-quality cover glass that protects sensitive parts of equipment from scratches and dirt at a low cost.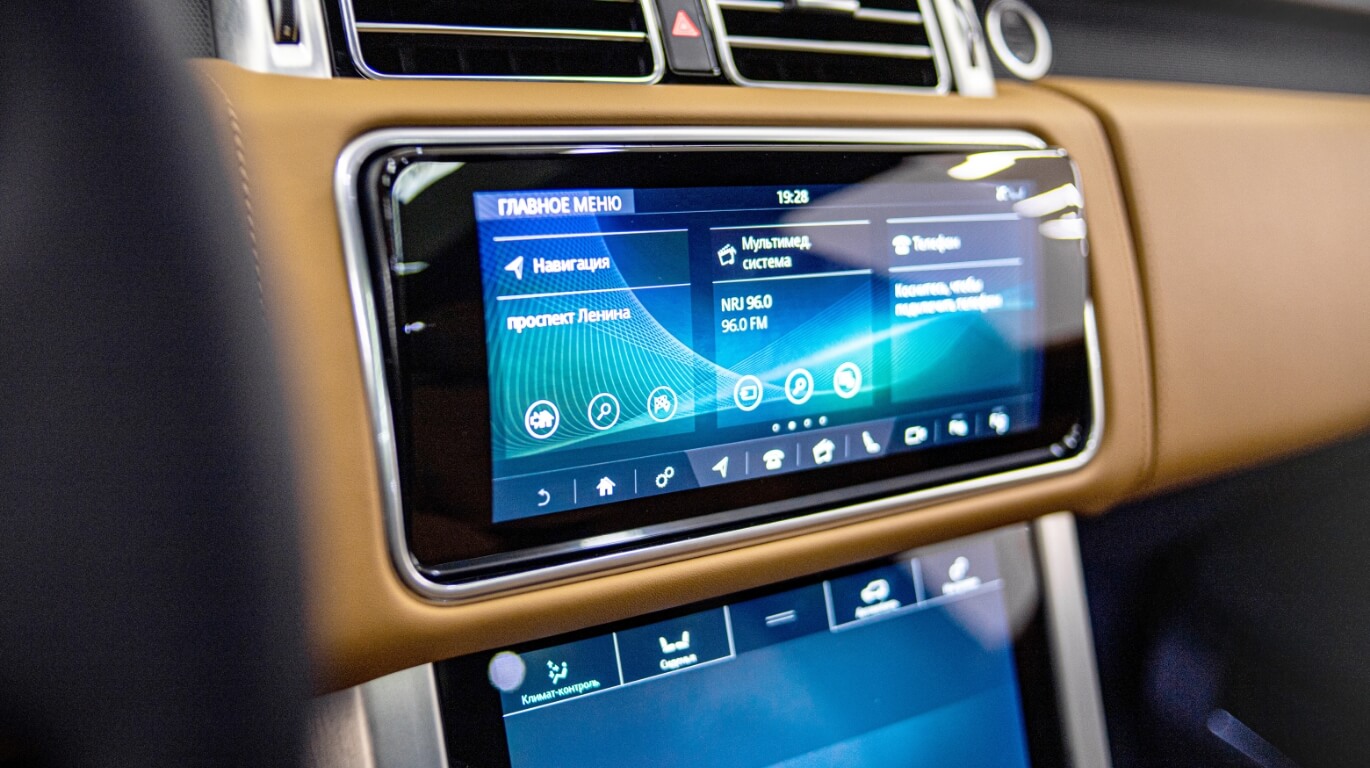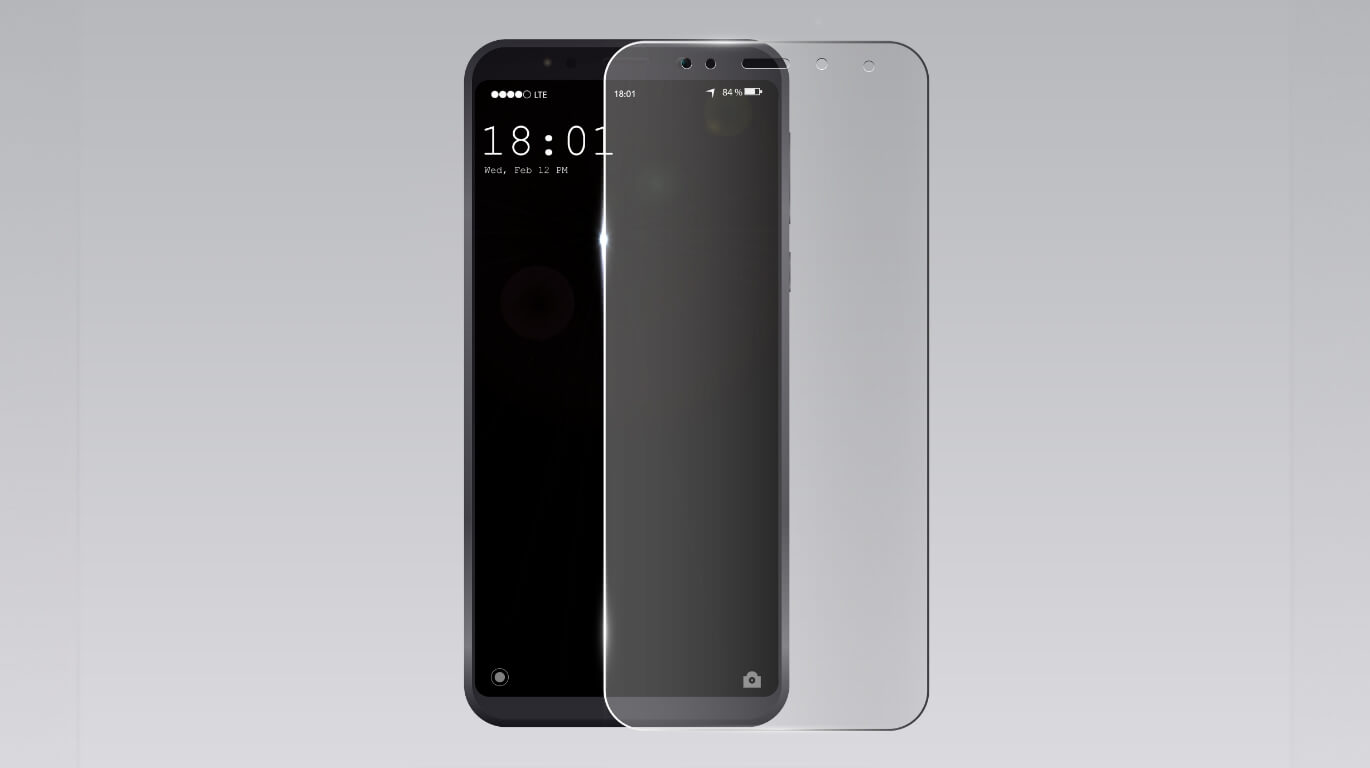 Anti-glare processing
This is a technology that scatters light by processing the surface of the glass into an uneven shape, giving it a function to reduce image reflection, and is mainly applied to the surface of glass for displays. Especially in the field of automotive displays and smartphones, it is being used for cover glass to create a sense of luxury. In addition, as the amount of information displayed on liquid crystals increases and the liquid crystal area expands, the need for such displays is increasing.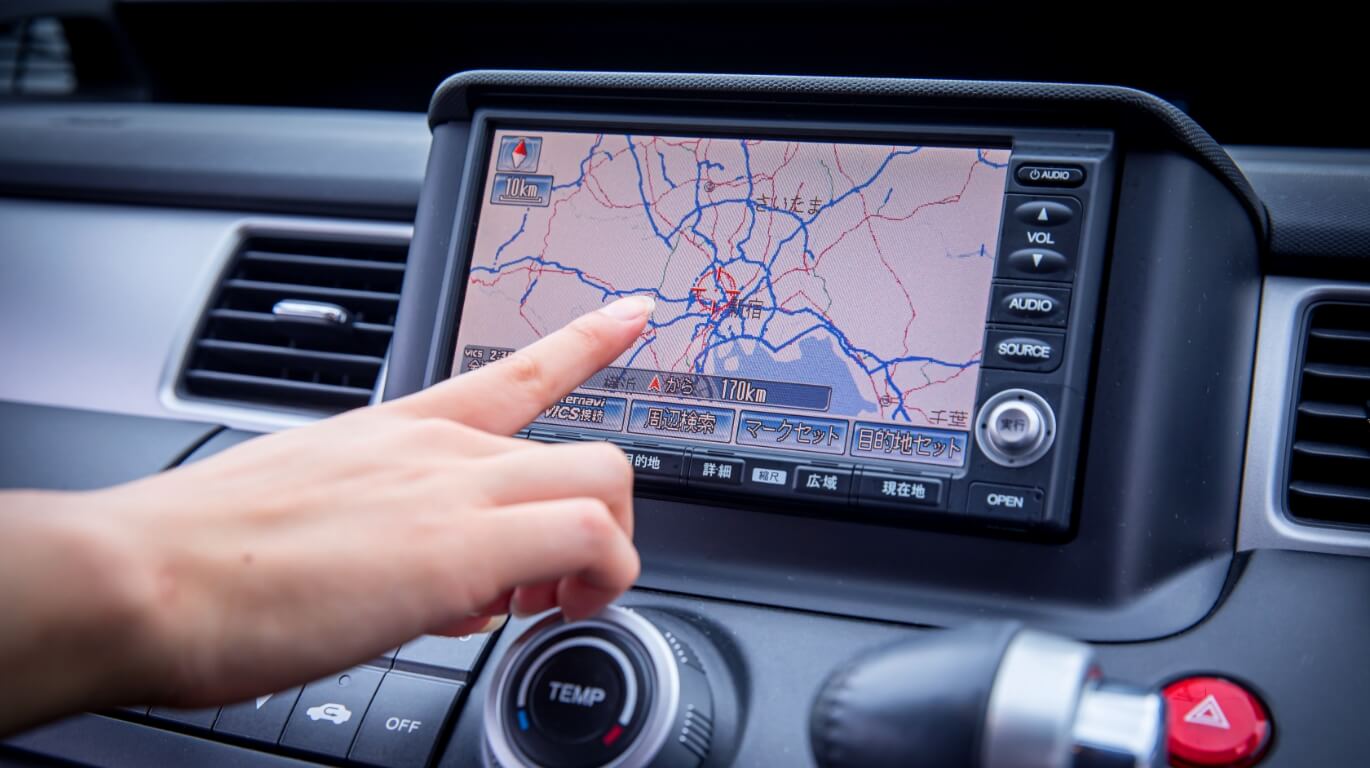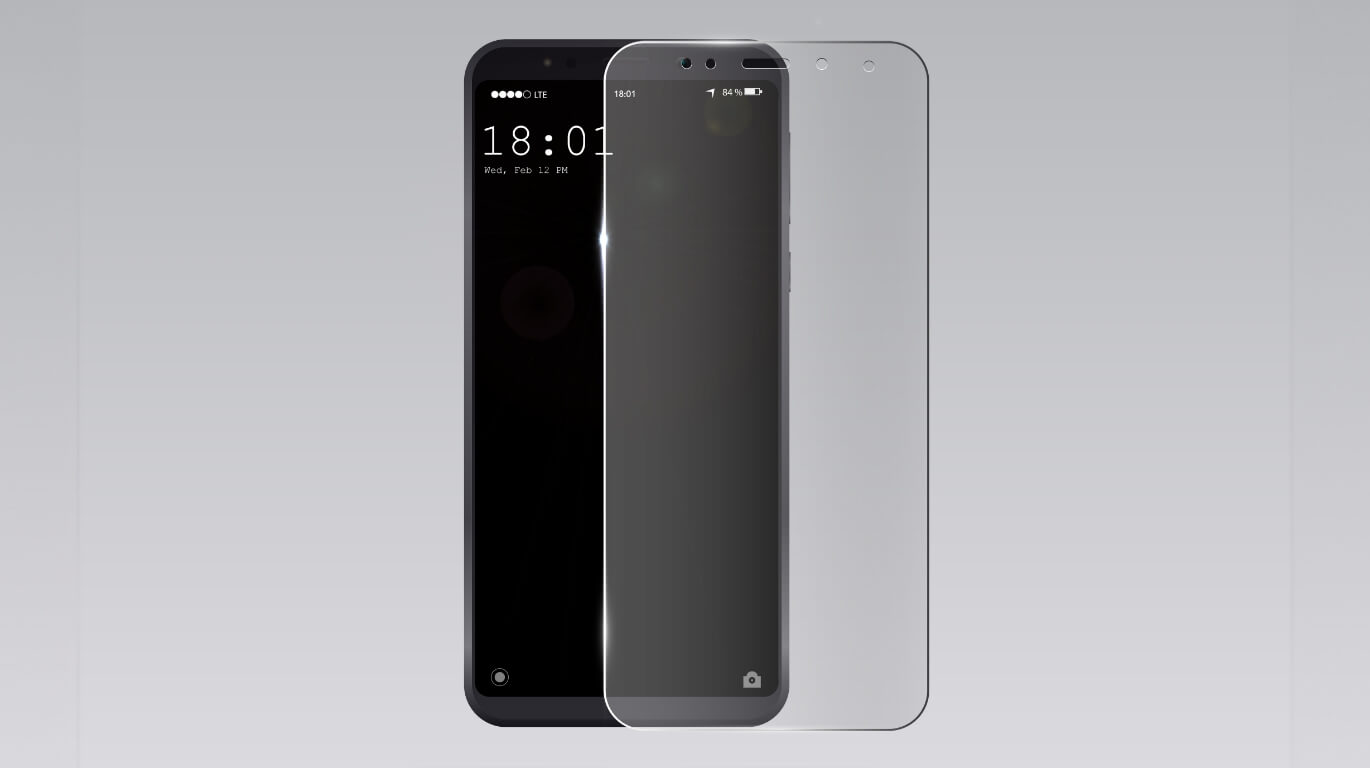 Issues with conventional anti-glare processing
Conventional anti-glare glass scatters transmitted light as well as reflected light, which has led to problems such as degraded image quality due to cloudiness (high haze) and reflection due to reflection of external light on the glass surface (high gloss).
Proprietary anti-glare processing (DS-AG)
DS-AG, a processing technology developed by NSG, has made it possible to reduce reflected images (low gloss) and suppress white cloudiness (low haze).
By applying DS-AG processing to the glass surface of UFF® and glanova®, it is possible to suppress the reflection of external light on the surface and improve the visibility of the display.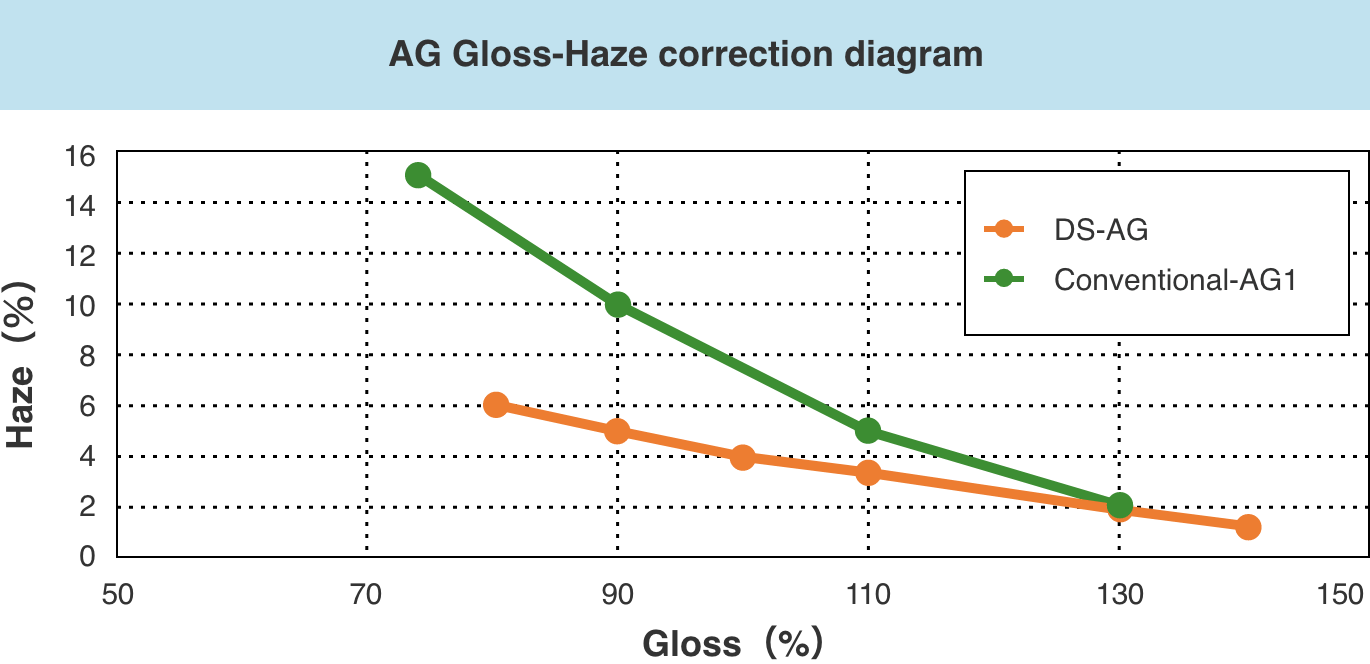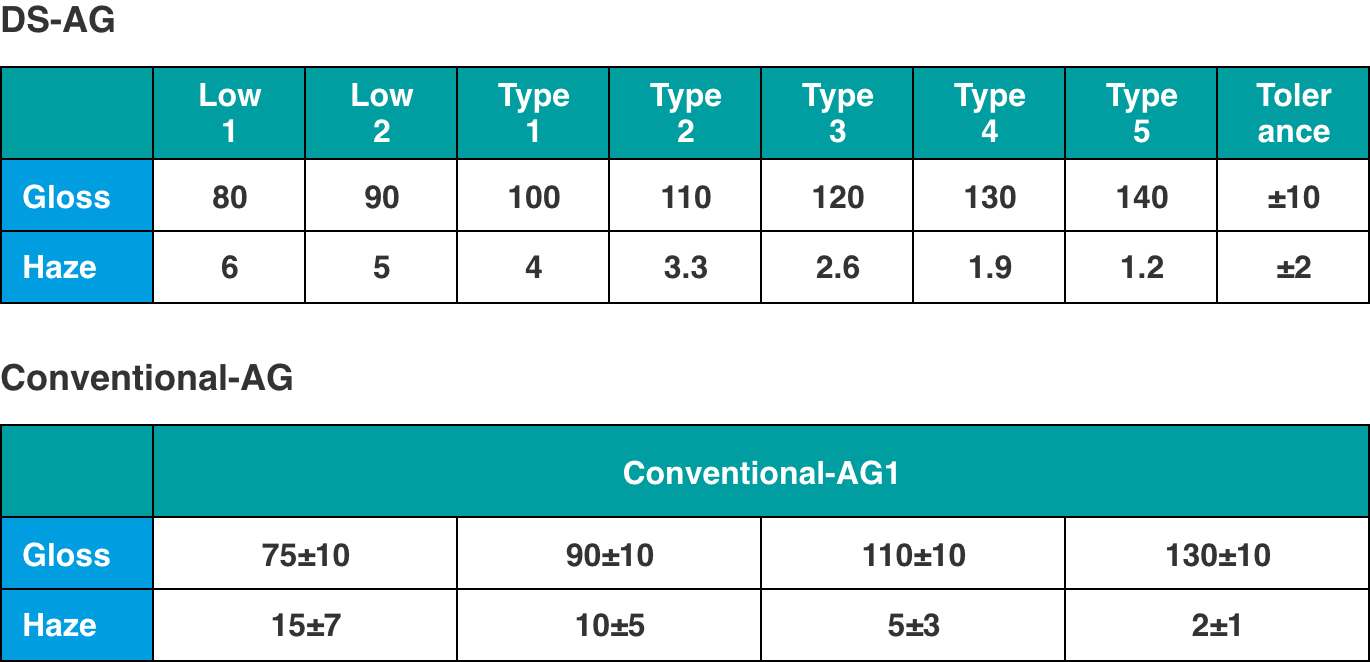 Control of dimples (irregularities on the glass surface) is possible
DS-AG uses photolithography technology to form dimples on the glass surface. Unlike the conventional anti-glare etching method, this makes it possible to control the shape and size of each dimple. By controlling the dimple size, DS-AG can suppress glare and white cloudiness.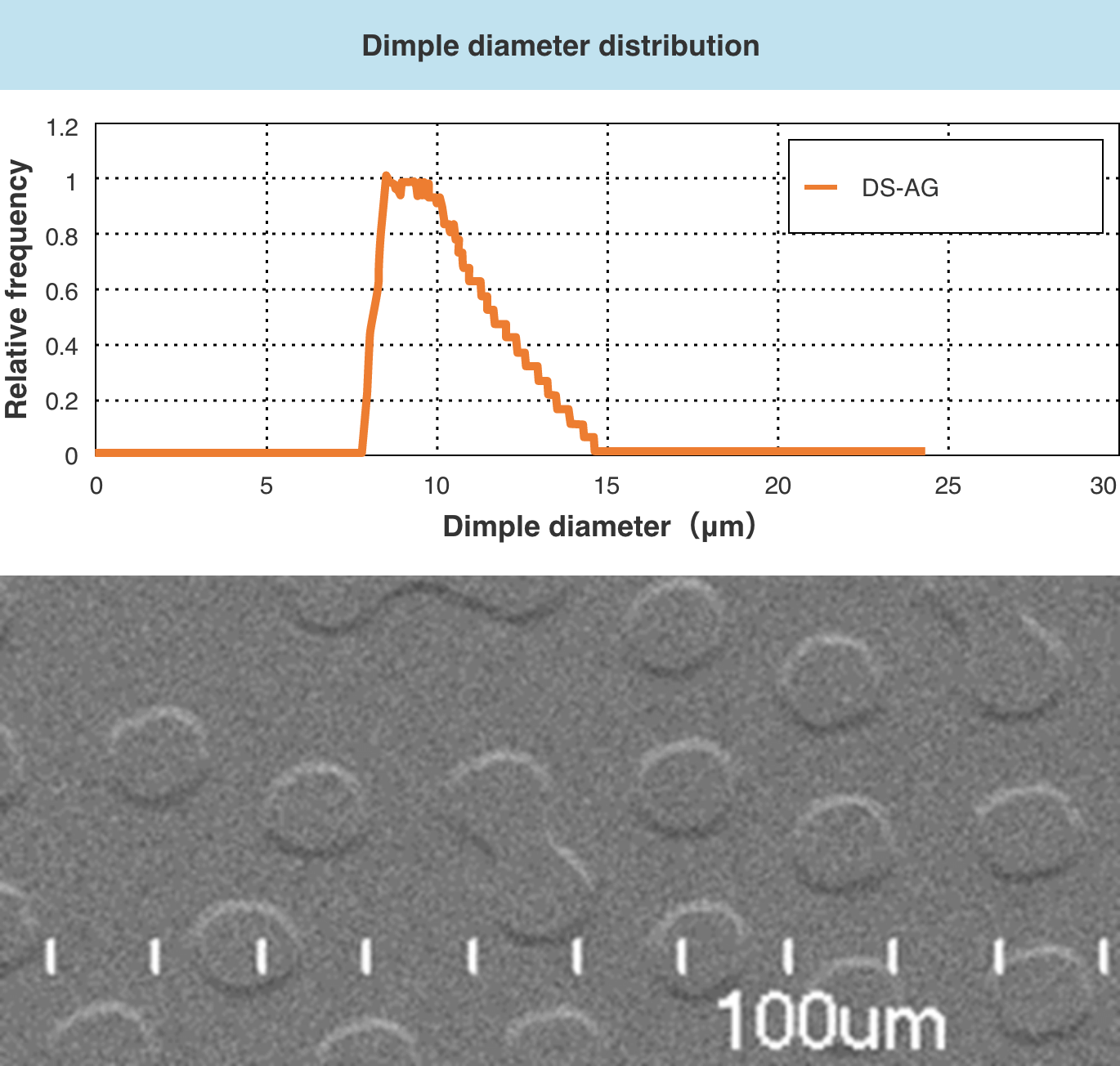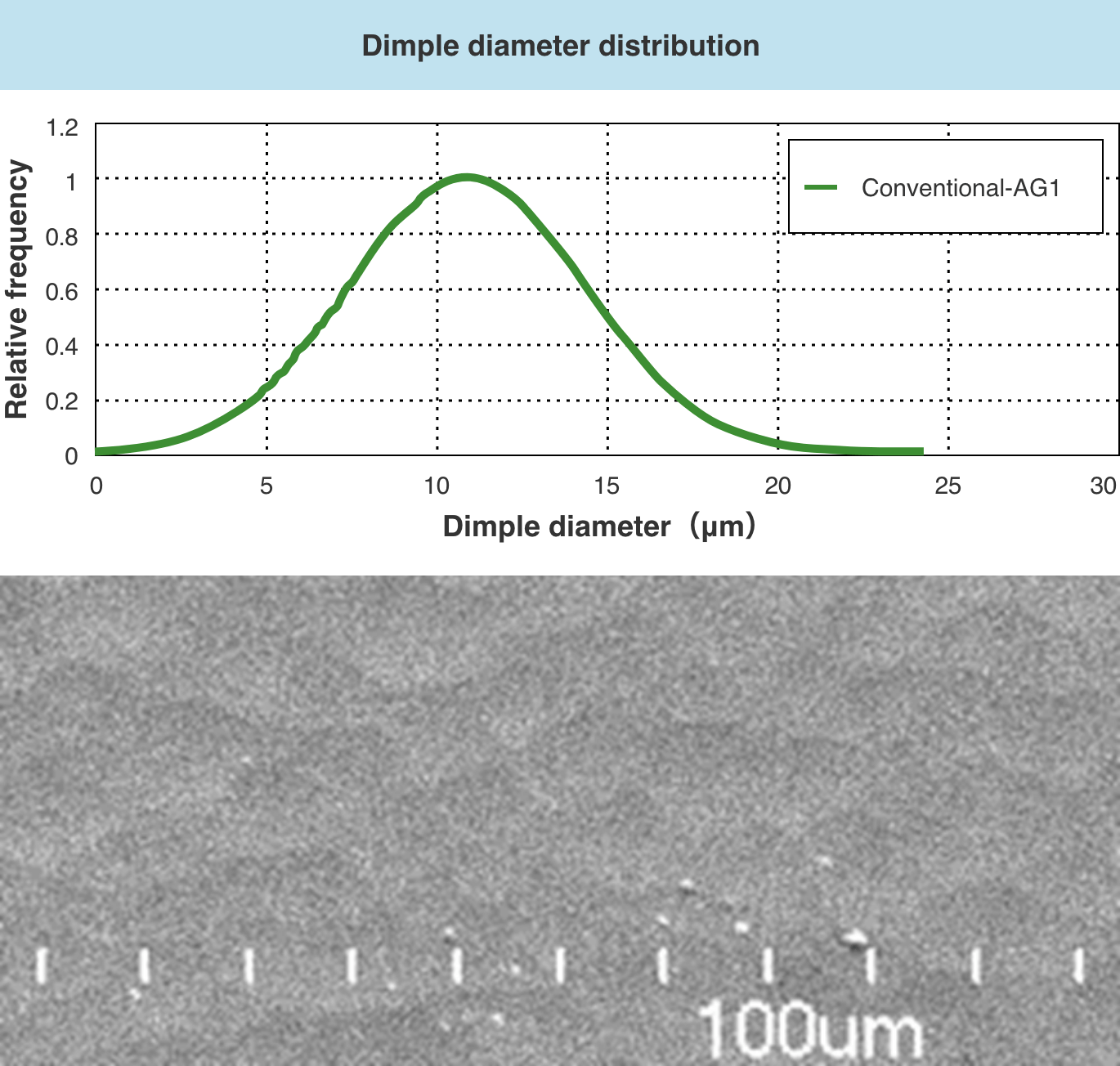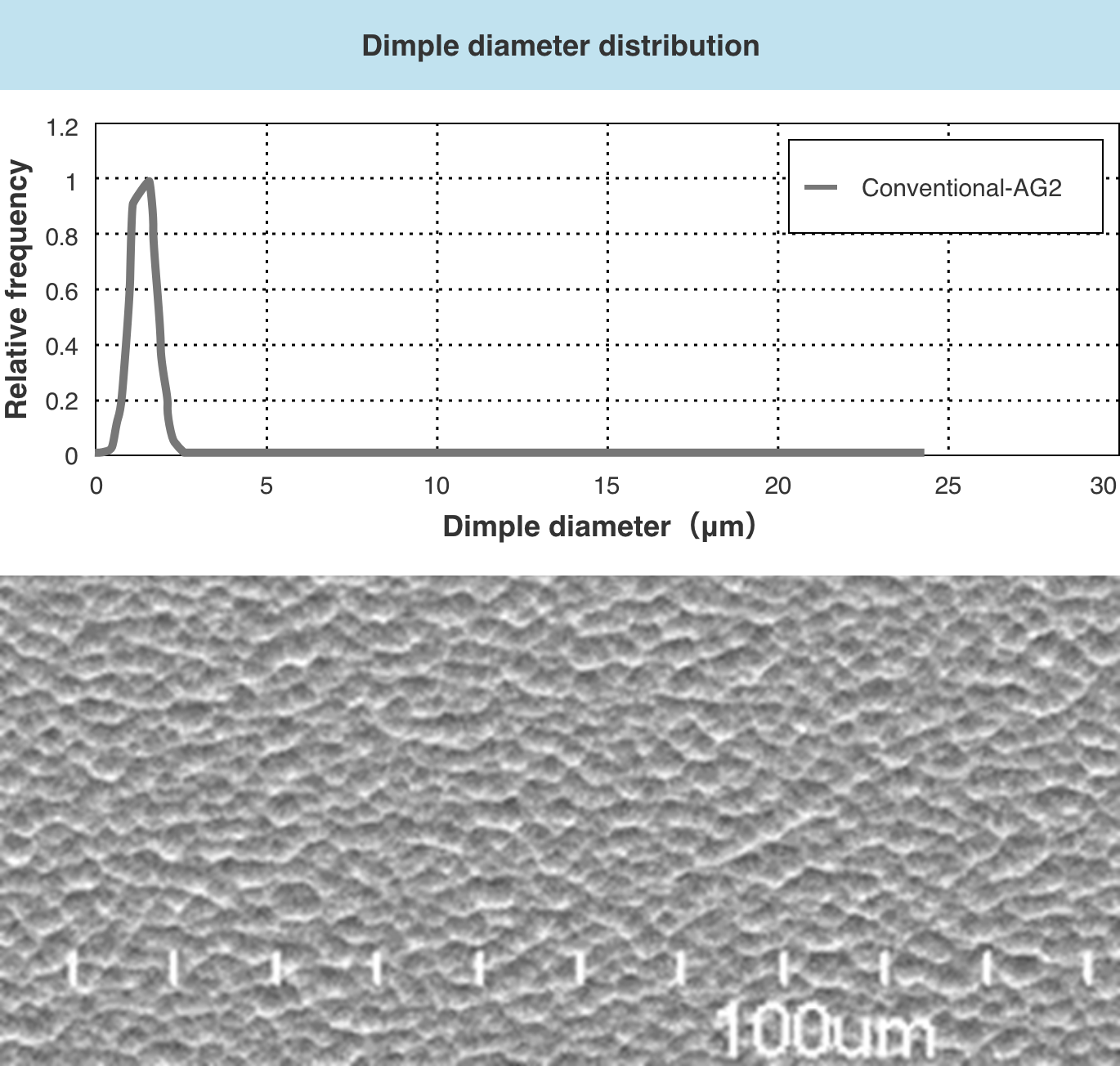 ■ Reduce the maximum dimple
If the dimple size on the glass surface is close to the sub-pixel size or larger than 15 μm, the amount of light entering the field of view increases and sparkle occurs. However, DS-AG can suppress Sparkle by reducing the maximum dimple.
■ Increase the minimum dimple
If the dimple size on the glass surface is 3 μm or less, white cloudiness will occur and the clarity will decrease. however, DS-AG can suppress white cloudiness by increasing the minimum dimple.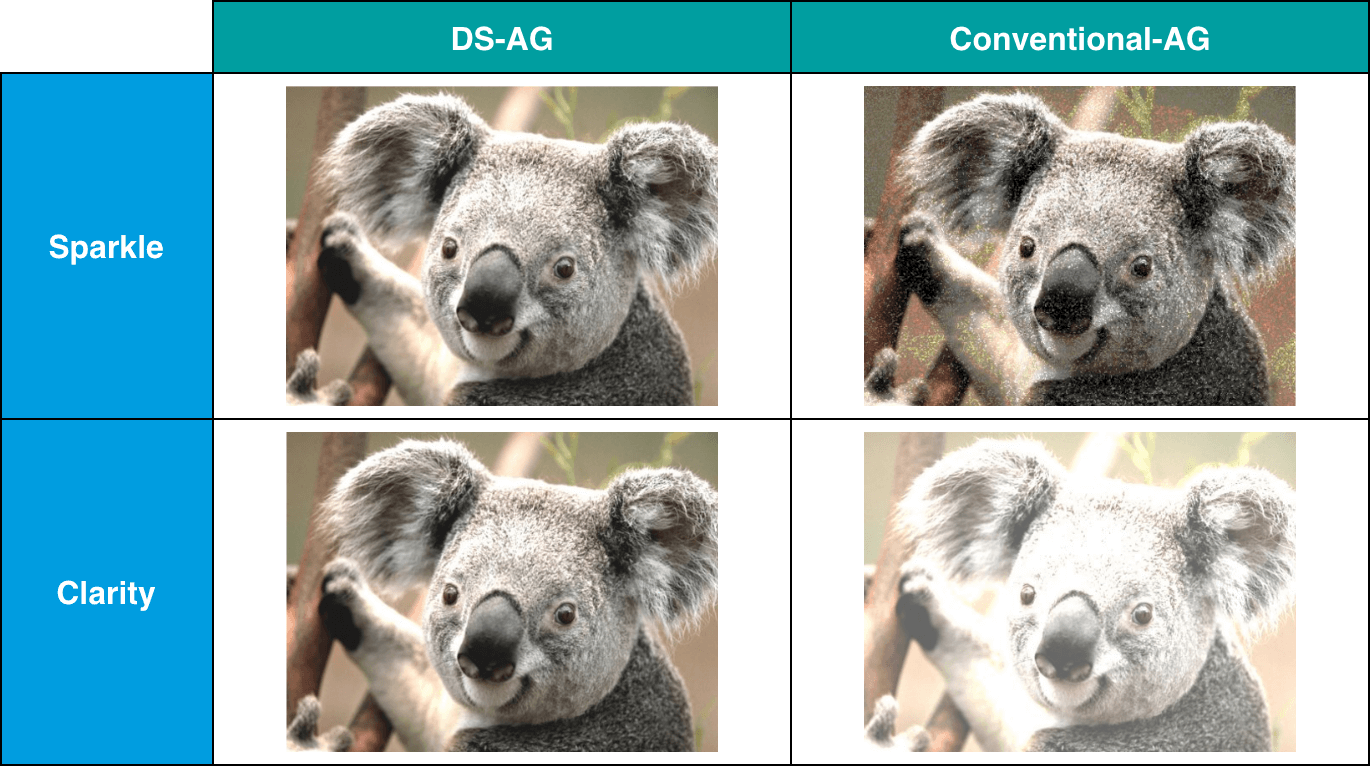 Partial processing of DS-AG
DS-AG is anti-glare processed using photolithography technology, so it can be partially processed in μm units. This makes it possible to express the boundaries between the processed and unprocessed areas more clearly.

Anti-fingerprint DS-AG
By controlling the dimples, it contributes to the anti-fingerprint effect and longevity of the surface functions.
Evaluate the AF abrasion resistance of silbon paper with high wiping properties by changing the contact angle.
Reciprocating width: 50mm
Speed: 40Hz (40 round trips per minute)
Pressure area: 1㎠ (8 sheets of silbon paper stacked)
Paper replacement frequency: every 1K round trip
Load: 375g, 750g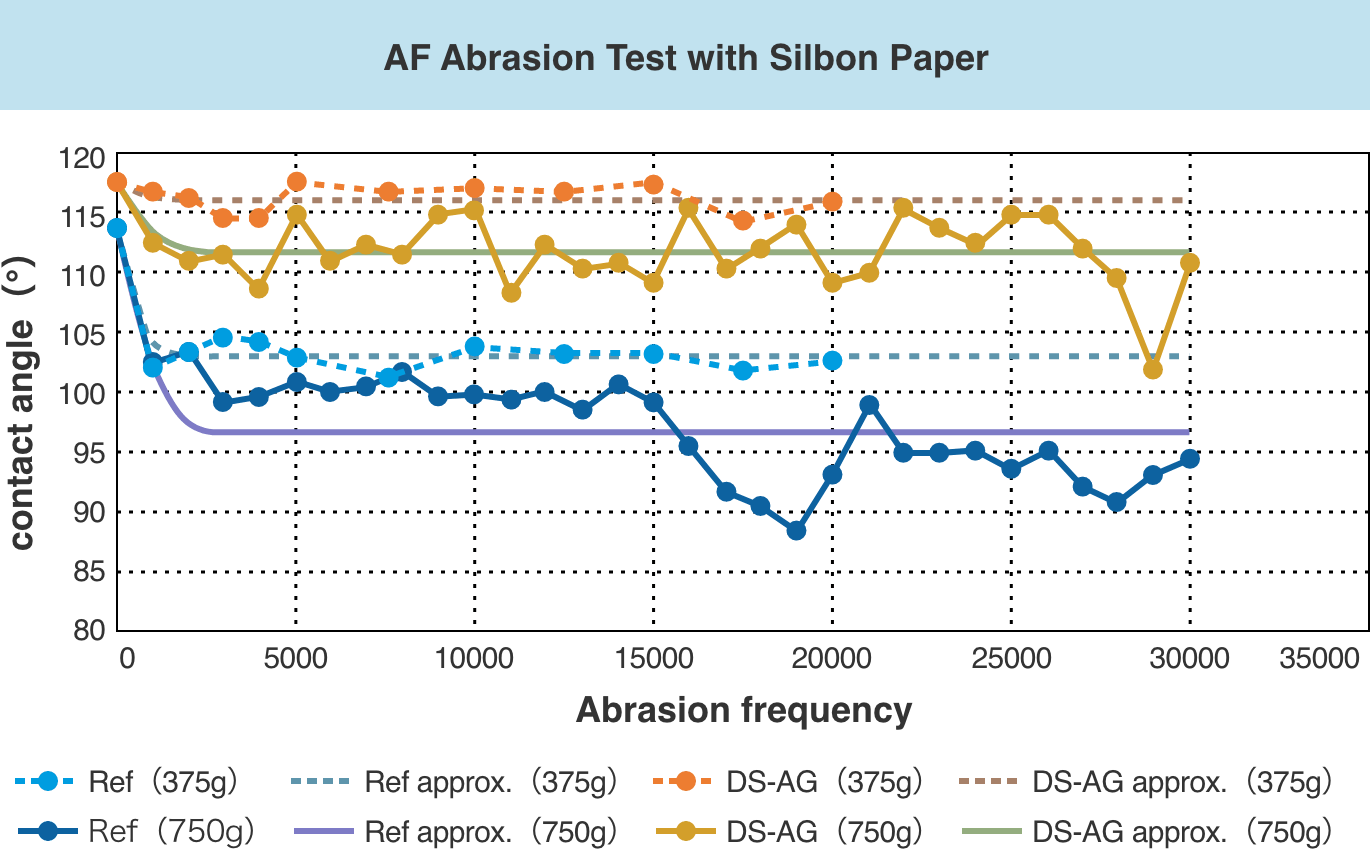 From this test result, it was found that the anti-fingerprint type DS-AG had less contact angle change than the existing AG (Ref.) under the same wear conditions.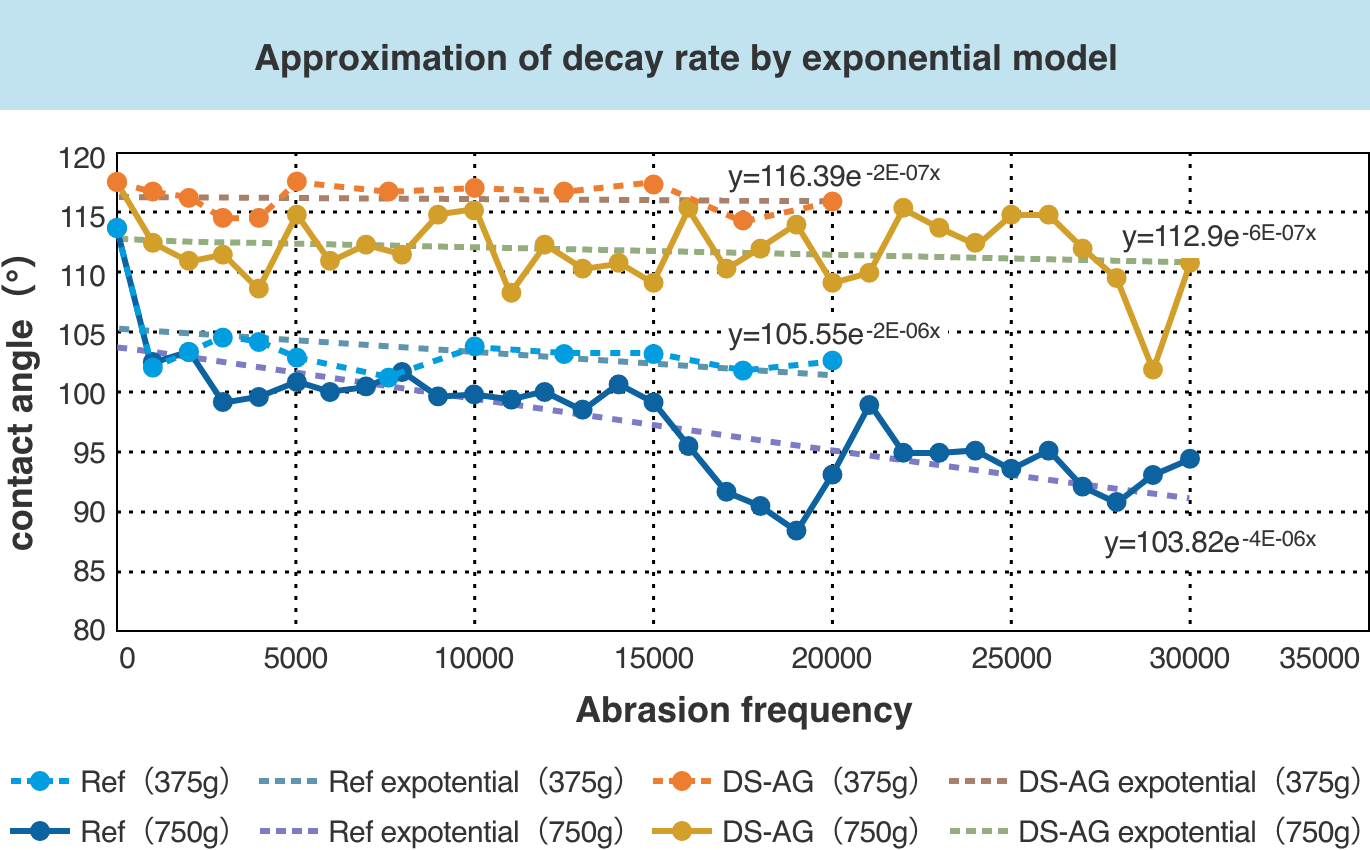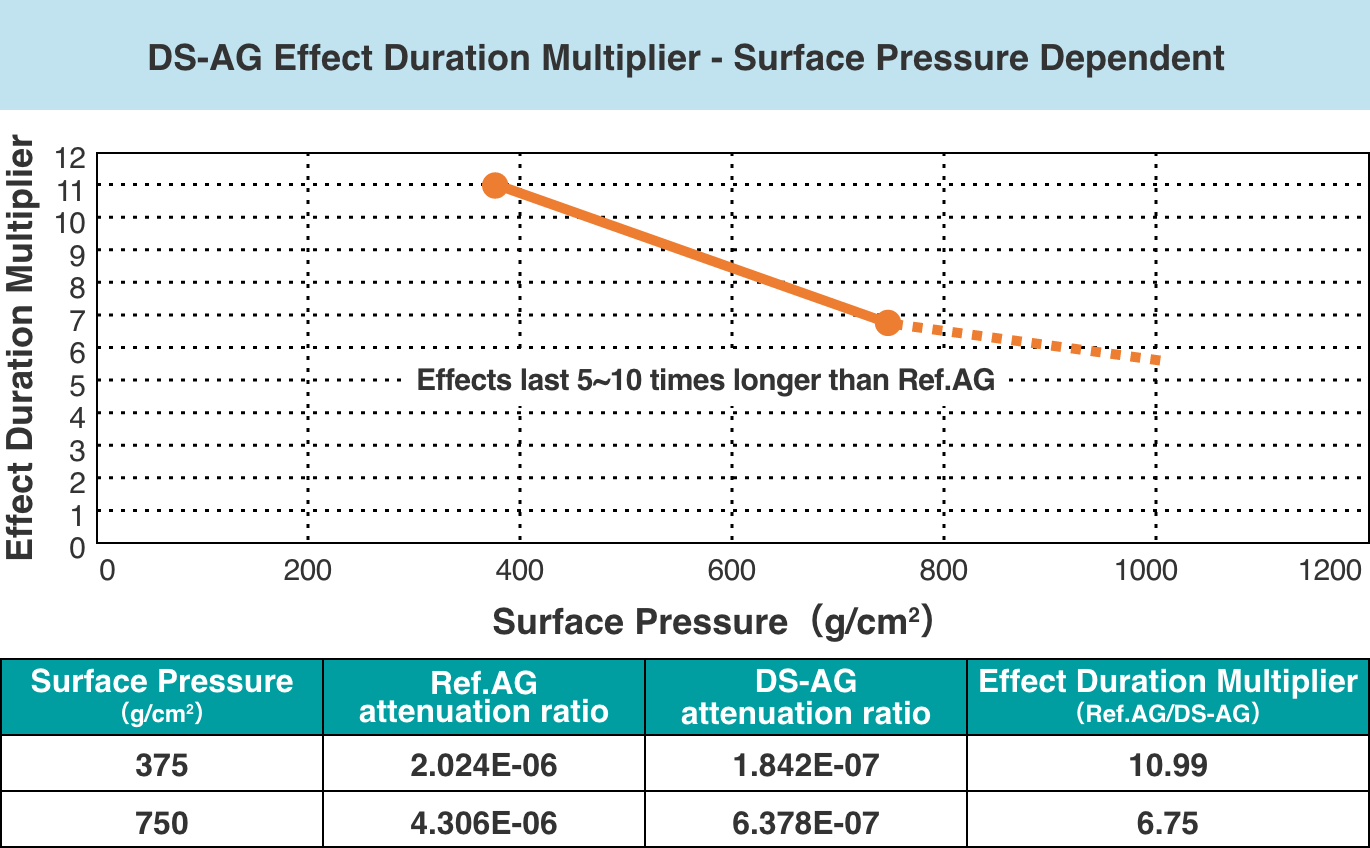 From this test result, it was found that the anti-fingerprint DS-AG was more than 5 times longer than the existing AG (Ref.) in the time to decrease to the same contact angle.
(Longer AF life)
Glossary
UFF®
UFF® (ULTRA FINE FLAT GLASS) is NSG's ultra-thin glass, which is used in many fields, mainly for small LCD applications.
Edge grinding/polishing
The flat part of the glass cutting surface is called the edge surface (edge surface), and the corner part is called the edge.
The edges can be ground to prevent cuts when handling the glass.
Chemical strengthening processing
Ion exchange forms a compressive layer on the surface of a thin pane of glass, which increases the strength of the glass.
TN/STN LCD
LCD stands for Liquid Crystal Display, which means a liquid crystal display. It is classified into multiple types according to the difference in physical structure.
- TN: Twisted nematic display, which is a twisted nematic type.
- STN: An abbreviation for Super-twisted nematic display, which is a high speed nematic type.
Flatness
It means the amount of distortion in the surface height due to the unevenness of the glass surface (difference between the highest part and the lowest part).
AG
AG (Anti-Glare) coating is called anti-glare (anti-glare) processing.
This is a technology that provides a function to reduce image reflection, and is a process applied mainly to the surface of display glass.
DS-AG
An abbreviation for Down Stream Anti-Glare, it refers to NSG's proprietary AG processing (anti-glare processing).
Gross
This is a numerical value that expresses the anti-glare property against reflection on the glass surface.
The lower the value, the less reflection, and the higher the value, the more glossy the surface.
Haze
A numerical value that indicates the degree of cloudiness of the display. The lower the value, the more the white cloudiness is suppressed.
White cloudiness tends to occur when the dimple size is 3 μm or less.
Dimple
It refers to the irregular islands formed on the glass surface by the coating process.
AF
It means AF (Anti-Fingerprint) coating, which prevents fingerprints and water/oil stains by making the glass surface water-repellent.
FAQ
Is it possible to send a sample?
Is possible. Please contact us for specifications such as dimensions and thickness.
Contact us
What is the product size?
It can also be manufactured in a customer-specific size. Please contact us with your desired product size.
Contact us
What is the thickness lineup?
In the range of 0.28 to 1.8 mm, we will consult with you according to your request.
Can you process and sell?
Basically, we sell raw plates , but we also sell processed products that have been cut and strengthened. Please feel free to contact us.
Contact us
What is the price and delivery time?do various coatings?
Please contact us for details.
Contact us