MICROGLAS®
METASHINE® Cosmetics
Inorganic pearl pigments provide high quality luster and transparency without interfering to other pigments.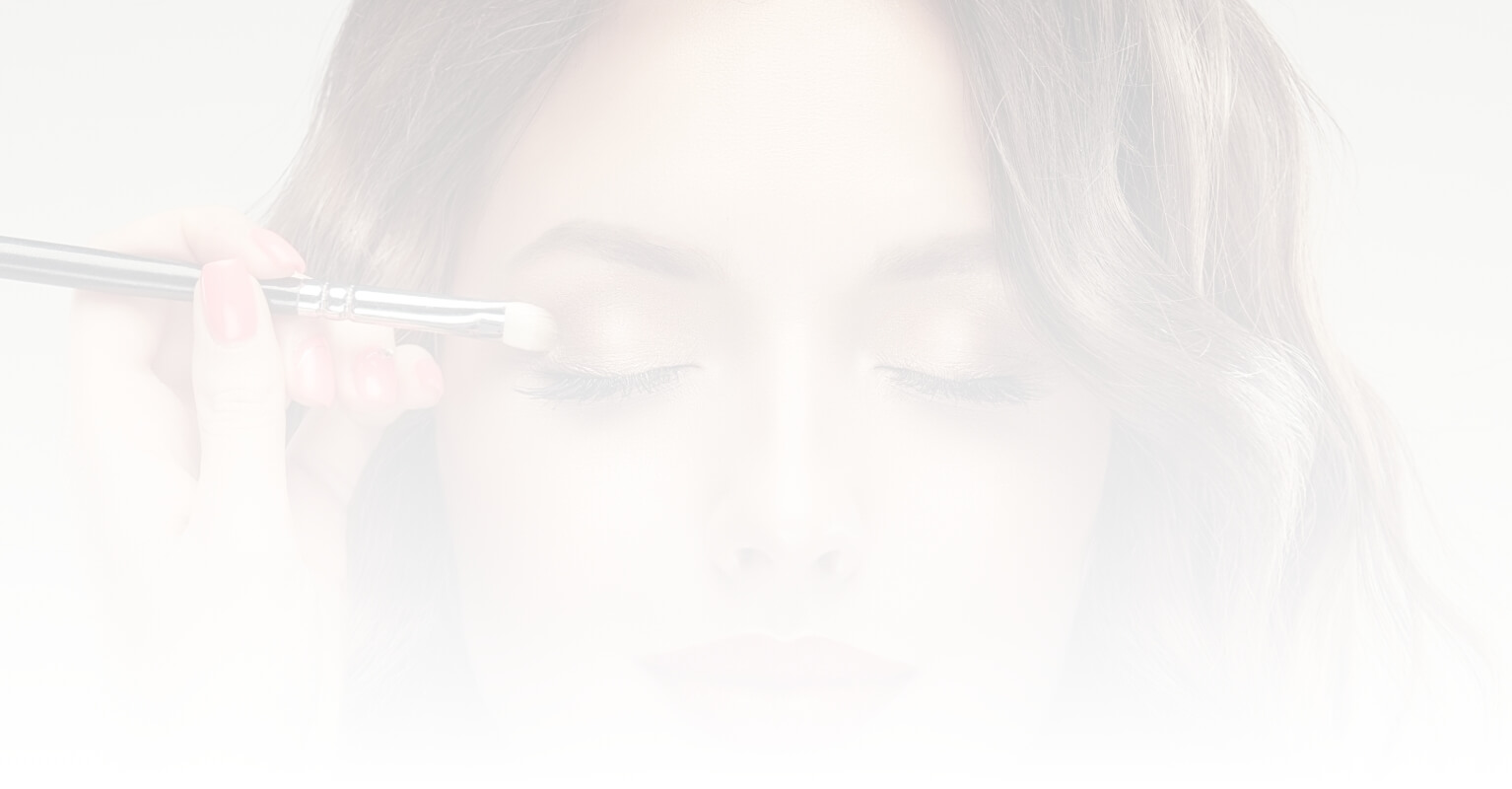 Product summary
METASHINE® is inorganic glittering pigment coated by metal or metal oxide on flake-shaped glass substrate to generate beautiful luster.
It is made from raw materials that are friendly to both humans and environment. High-quality glitter can be obtained from sparkle of reflection and interference delivered only by flake-shaped glass.
NSG's TA glass has transparency derived from glass and is also environmentally friendly
METASHINE® utilizes the inherent glass properties as well as NSG's glass technology.
Features:
Pure and clear coloring derived from transparent glass base material
High brightness from strong light reflection due to flat surface of the substrate
Clear particle sparkling effect, without cloudy whitening due to less scattering on surface of the substrate
Wide variation for size by adjusting capability in process
Environmentally friendly thanks to TA glass (NSG original) with low alkali, low heavy metal, and boron free.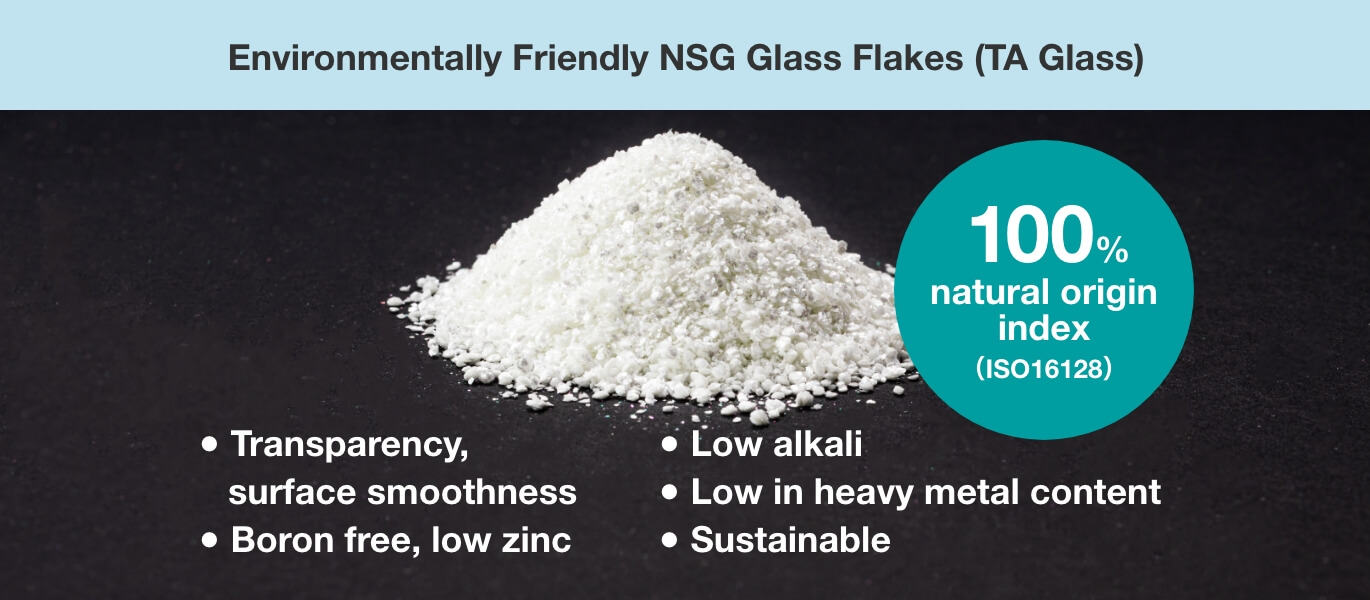 Broad product lineup - Wide variation of substrate sizes and surface treatments
1) Thickness - 5 standard dimensions : of 0.3µm, 0.4µm, 0.5µm, 0.8µm, 1.3µm
2) Average particle diameter choices : 8µm to 200µm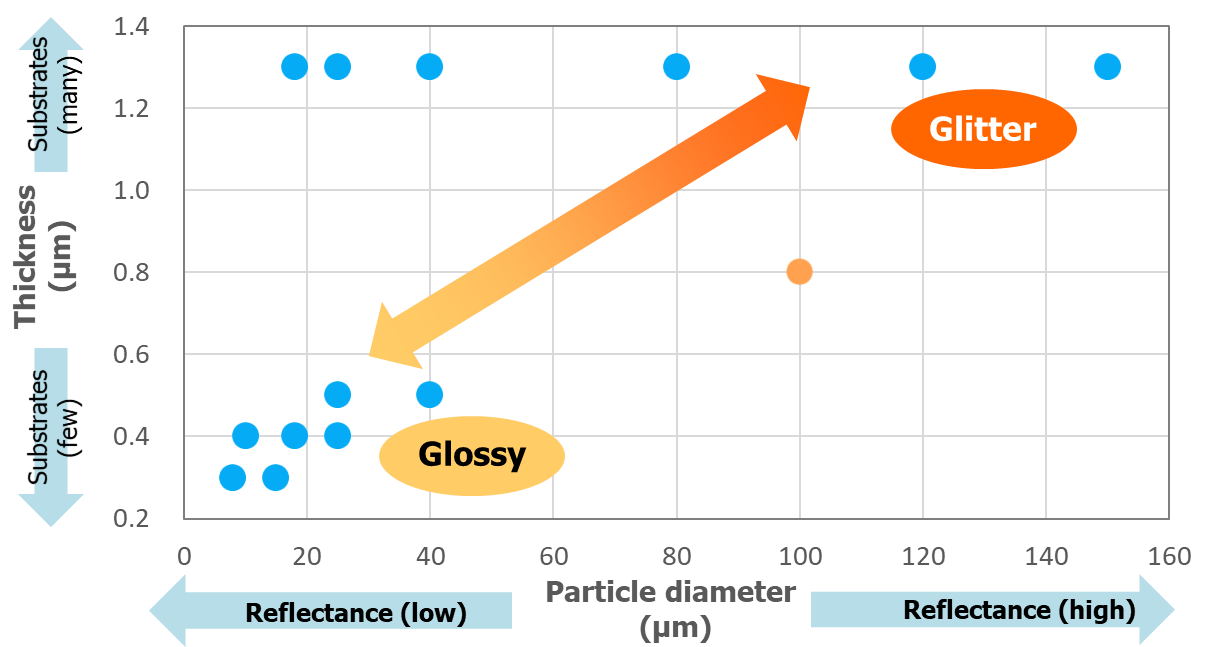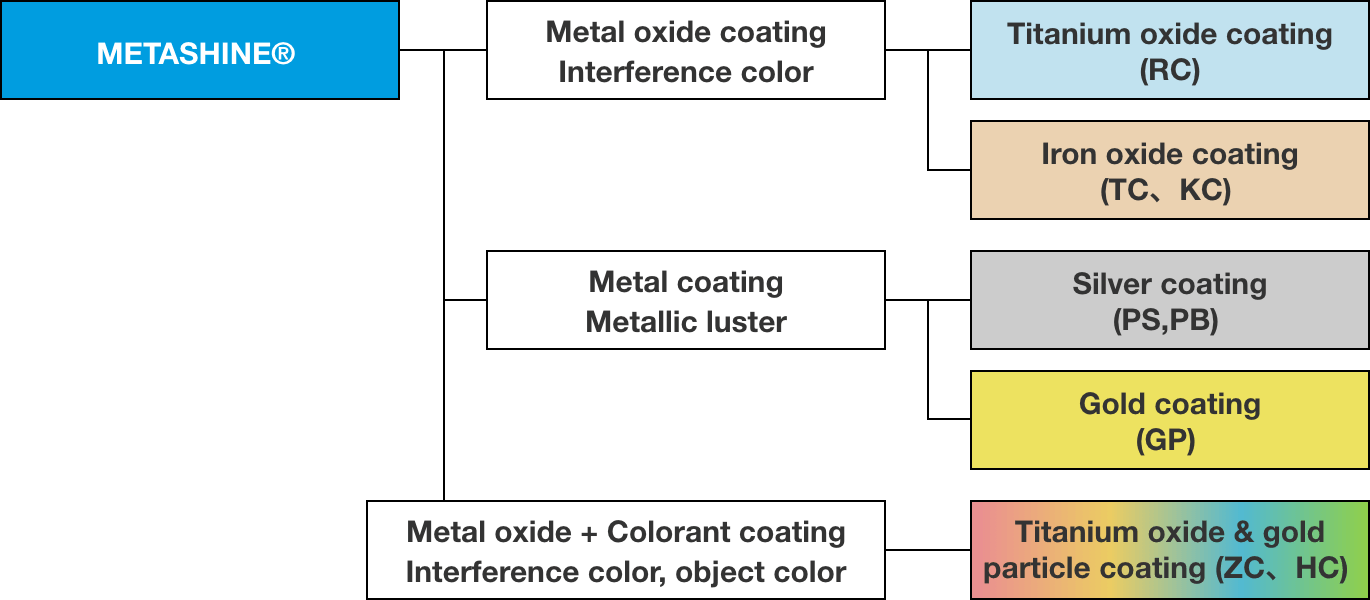 Glossary
Boron-free
Glass substrate does not contain boron.
Heavy metal
Generally referred to metals with specific gravity greater than iron.
Interference colors
When there is interference between two white lights, they may strengthen or weaken each other depending on their wavelengths, and this also changes the composition of the light. Further, the color known as the interference color appears in the interference fringes. In the case of METASHINE® coated with titanium dioxide, two wavelengths are created from the reflected light : one is reflected by the titanium dioxide on the surface of the METASHINE glass flake particle and the other is a result of light transmitted through the titanium dioxide onto the back surface of the METASHINE® glass flake particle which is also reflected back to the viewer. One of these reflections strengthens and the other one weakens the light. The optical path differencial caused by the refractive indice difference between air and titanium dioxide creates a specific color based on the thickness of the titanium dioxide coating deposited onto the glass flake.
FAQ
Can you change the thickness or particle size?
We can change thickness and particle size from technical perspective. Please feel free to try existing products first and then discuss with us.
Can we increase the brightness?
We can't change the brightness.
MICROGLAS; Registered Trade Mark in Japan, USA, Europe, U.K., Singapore, Malaysia and China.
METASHINE; Registered Trade Mark in Japan, USA, Europe, U.K., india, Korea, Singapore, Malaysia, Thailand, Hong Kong, Taiwan and China.