Design/art
Cosmetics
From point makeup to base makeup, supporting "commitment" on cosmetics with various light functions and effects.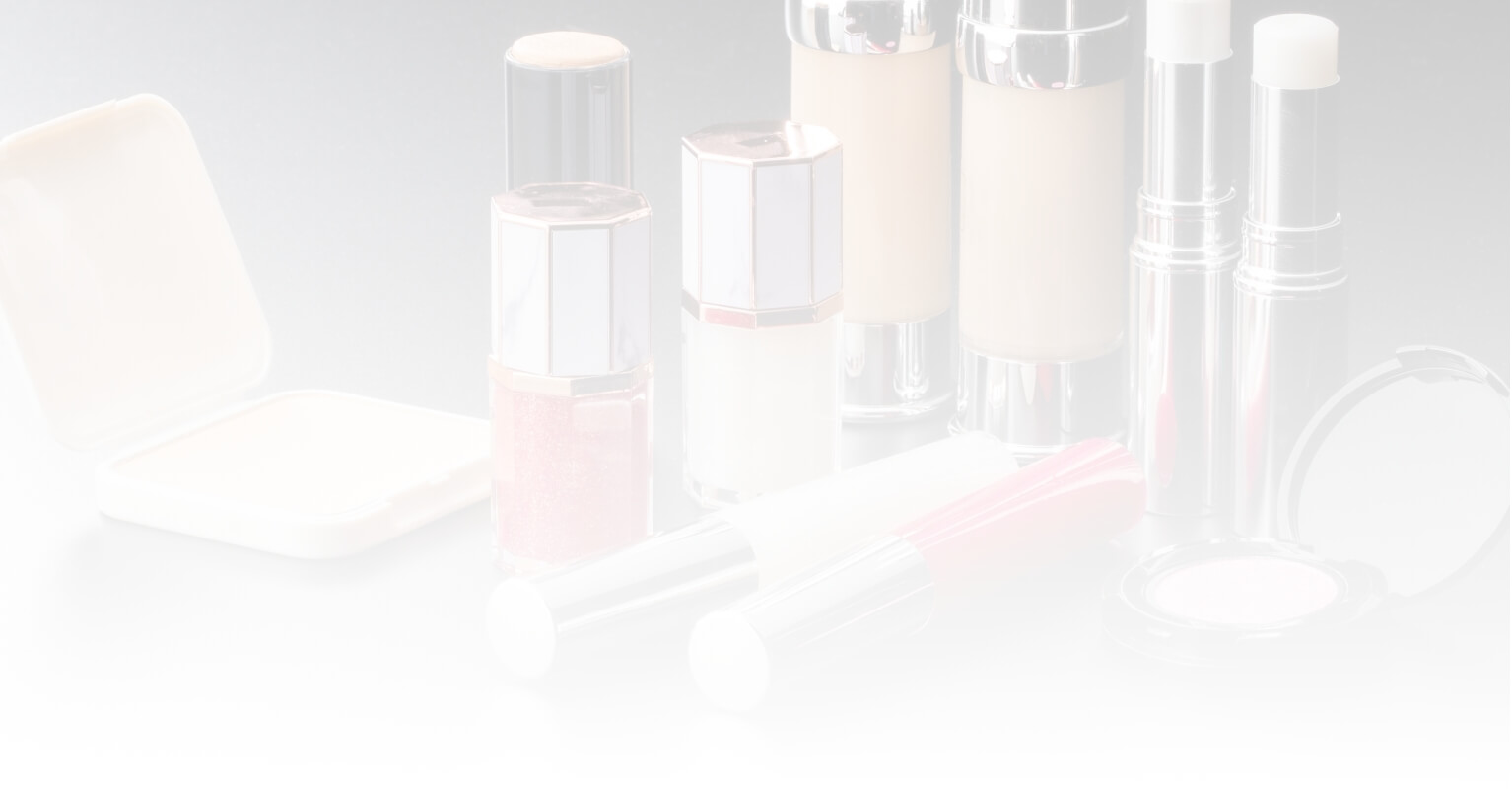 In cosmetics products, pigments are essential raw material with important functions and effects.
As glittering (glossy) pigments for point makeup and body pigment for base makeup, effect pigments based on NSG glass are being examined and employed. From sparkling like pearls to natural gloss, blur effects, and infrared light reflection, NSG pigments contribute to realize various optical properties and functions in cosmetics.
Sparkling for point makeup
To express classy and luxurious sparkling in point makeup cosmetics such as eye shadows, eye liners, lip gloss, lip sticks, and nail polish, effect pigments need to be clear, transparent and glittering strongly.
The glittering pigment of NSG, METASHINE®, utilizes transparency of the glass itself and achieve wide range of optical properties fitting latest trends in point makeup cosmetics, from strong sparkle by larger particles to fine and delicate gloss by small particles. In recent years, as a countermeasure against global microplastic concerns, METASHINE® is being actively substituted for lame materials.
Natural look for base makeup
Base makeup products such as foundation, primer, and powder requires an additive that provides comfort, transparency, and natural moisture. Today's consumer prefers a natural look and feel, as well as safe health. With more concern around ethical practices, consumers want to reduce products that are connected with dirty mining products or with microplastic use.
To address these issues, NSG is working on newly developed MAR'VINA®. A renewed look of natural expression is now possible using NSG's base makeup products having both transparency and moisture appeal.
Near-infrared light reflection for base makeup
Near-infrared light penetrates through the skin surface and into the subcutaneous tissues. The ensuing heat then harms or destroys tissue. This in turn causes dark spots and sagging that preferentially absorb NIR light.
A base makeup formulation that blocks near-infrared light is needed. As an additive for base makeup that protects the skin from near-infrared light and provides clear and natural brightness, NSG developed microparticle treated glass flakes that reflect near-infrared light. MAR'VINA® Natutect™ provides antiaging effects yet having a natural feel.
Soft focus effect for base makeup
Consumers wanted to hide dark spots and visible pores. There was no cosmetic material that met the combined requirements of being inorganic, comfortable and displaying a soft focus effect.
NSG developed and commercialized MAR'VINA® i-NAFLECS® - a light-scattering soft powder made of titanium oxide and silica. Its soft focus effect efficiently covers dark spots and pores. It is a popular alternative to microplastic with its additional improved comfort.